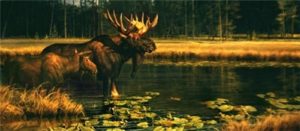 Description
Framed, Limited Edition Paper Print, number 860/1200.
Image size is 34" x 15" with a beautiful leather look matte and 3½" dark walnut frame.
Frame size 46" x 27".
This print is no longer available through the publisher and has an unframed value of $350, our framed priced, including shipping, is only $650.
Also available 18" x 40" limited edition, giclee canvas $850, unstretched.