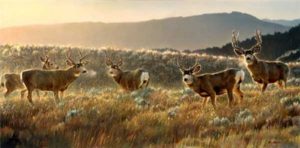 Description
One of Nancy Glazier's most popular images ever. Five mule bucks gathered at that special place where only they know.
Framed, Signed Paper Print
Image size 34" x 17"
Frame size 43 1/2" x 26 1/2".
Framed in barn wood like molding with olive and sage mattes.
Only $600 including shipping.
Also available 18" x 40" limited edition, giclee canvas $895, unstretched.